JDMAuctionWatch is a new concept in listing, sourcing and purchasing used cars from Japan. Setup by 2 car enthusiasts from Ireland with over 10 years experience of importing & exporting specialist cars from Japan worldwide JDMAuctionWatch is your one stop shop for buying and importing the car of your dreams.
We are the only Europe based import agency who provide our customers with direct access and bidding capabilities to over 90 Japanese Motor Auction Houses. By using our LIVE auction feed our customers can purchase and import their next vehicle directly from Japan without ever having to leave their home!
Due to our location we offer specialist services for Ireland and the UK and arrange for all aspects of the import process from start to finish – including customs clearance and handover or delivery.
In conjunction with our Japan based partners, we pride ourselves in being able to supply our customers with the very best possible import service.
JDMAuctionWatch is run by people who love cars for people who love cars!
Meet the team
Patrick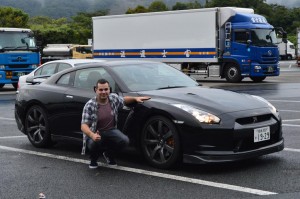 Patrick Tierney, co-founded JDMAuctionWatch in 2013, with over 10 years experience in importing specialist cars to Ireland and the UK he along with Regina saw a niche in the market for importing custom and performance cars to order. Patrick is a web developer by trade which enabled him to integrate Japanese auction software into the JDMAuctionWatch website, meaning for the first time buyers from Ireland and the UK no longer had to use Japan based websites to view auction vehicles.
Patrick was born a car nut and has unrivalled amounts of useless information on all makes and models! Having been active and well known in the Irish car scene since the early 00's he has personally owned well over 100 cars varying from Mini's to M3's and everything in between, a regular driver at track and drift day's his real passion however lies with classic JDM cars and in particular with the legendary Toyota AE86 so much so that in 2006 he established www.AE86irl.com Ireland's AE86 Owners club, which he still owns and runs today.
Whatever your car of choice Patrick will take pride in helping you find the best possible example and seamlessly get it from the streets of Japan to your driveway.
Regina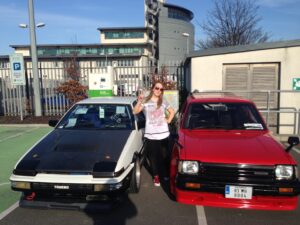 Regina Farrell is the other half of the JDMAuctionWatch team – Having self imported cars over the past number of years she was eager to help others do the same and experience the excitement of selecting and importing your car from Japan. Even with over 100 cars under JDMAuctionWatch's belt it is Regina still gets a thrill going to the port to meet customers on arrival day!
Regina is passionate about everything JDM and has a retro Toyota obsession, her impressive personal collection of imports including an AE86 Corolla Levin, KP61 Starlet, AW11 MR2 Supercharger & a AE92 Corolla GTi would put most guys to shame.
She has been involved in the car community for many years and is a self confessed petrol head.
Whether its shipping to an obscure location or a simple price request, Regina takes pride in making time for each and every customer.